At Your Fingertips: Drinkability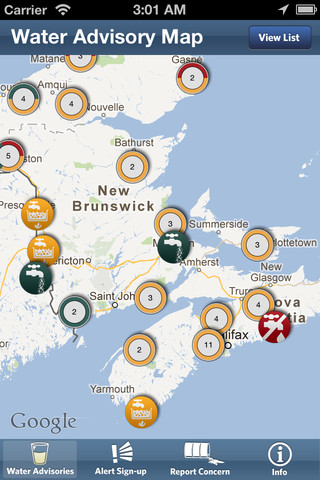 You already know if you can swim in it. But can you drink it?
With the success of its Swim Guide app, Lake Ontario Waterkeeper has debuted its new Drink Guide. While it hasn't been officially launched, @LOWaterkeeper tweeted last Friday that Apple had given the new app the go-ahead. I'm excited to see it come to fruition–at 2011′s Canadian Water Summit, I spoke with LOW's Mark Mattson regarding the possibility of such an app. Thanks to a partnership with the team at The Water Chronicles, the app is now functional. (In the past, we've partnered with kind people at The Water Chronicles, too. Click here to see our rendition of a BWA map from Water Canada's May/June 2011 issue–they're a great team with a very useful and important resource.)
Using a sortable list or map view, the app identifies current drinking water advisories across the country. Additionally, it lists do not consume orders, blue-green algae alerts, and water shortages. Users can also sign up to receive email notifications of any advisory in their areas.
RELATED: Smarter Water, State of Emergency