To Be or Not to Bv7
Lake Ontario is home to a diverse array of ecosystems, fish and wildlife species, recreational fishing and boating industries, and a shore and coastline of property and infrastructure. Perhaps most notable is its 26,000 hectares of wetland, which is largely the fountain of Lake Ontario's ecosystem and species diversity. The health of these wetlands, however, is declining. Over half of the wetland meadow marsh—the presence and health of which is a strong indicator of ecosystem health—is now dominated by cattails and many areas have experienced an 80 per cent loss in meadow marsh vegetation
Cattails are wetland plants that flourish under stable water levels. The current water-level regulation system keeps Lake Ontario's water levels relatively static, and as a result, cattails are provided with opportune growing conditions. These cattails have become an invasive and dominant species in Lake Ontario's wetlands.
Cattails do have some benefits: they are the primary food source for muskrats, may provide an economic initiative as a source of biofuels and green energy, and may be a possible solution to lake pollution. But the benefits of monoculture cattail marshes are slight when measured next to the benefits of biodiversity, variety in marsh vegetation, and a flourishing coastal ecosystem, which all contribute to an ecosystem better equipped to resist impacts from environmental threats, invasive species, and climate change.
The current water regulation system, Plan 1958DD, has been in operation since 1963 and was developed with data taken from 1860 to 1950. The environment was not taken into consideration in the design of 1958DD. Understanding the need for a plan built in the context of today's available data, technology, and understanding; our current economic, social, and cultural settings; and a shift toward environmental stewardship, the International Joint Commission (IJC) underwent a five-year, $20-million study funded by both the Canadian and American governments. The outcome was Plan Bv7, now Plan 2014, which claimed to be sensitive to both stakeholders' needs and the environment. The plan's benefits, however, seem to favour the environment, ecosystem health, and hydroelectricity, while the consequences fall onto shore and coastline communities. To put it bluntly, "[Plan Bv7] scares [the riparian communities] to death" says Jack Steinkamp, founder of the Lake Ontario Riparian Association. The legitimate concern of the riparian communities is that increased variability and higher fluctuations in water level could seriously put their infrastructure and homes at risk. Although Bv7 proposes to raise the highest water level in Plan 1958DD by only six centimetres, there is a great deal of deception surrounding Bv7.
Plan 1958DD regulates water levels within a narrow four-foot range while Plan Bv7 proposes seasonal and yearly fluctuations more similar to natural pre-regulated flows and levels. The research behind the claimed potential benefits to involved ecosystems, wildlife, and fish species has been published in at least four peer-reviewed scientific journals, and these are well presented in a webinar "Great Lakes Water Levels, Lake Ontario Regulation, and Implications for Wetlands" available here. The benefits of returning to natural flows are not the point of debate, but rather the consequences of such water level changes. It was the lack of economic and social analyses in the development of Plan Bv7 that resulted in grassroots organizations expressing their positions in the form of social media, open letters, and petitions: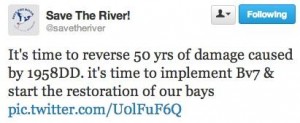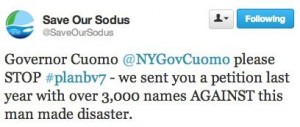 If the increased risk and potential for damage, which the IJC estimates to be a maximum of $5 million per year, was only a matter of skewed perception and anxious exaggeration, one has to wonder why the IJC was met with so much resistance from an educated, engaged, and well-versed riparian community. A revised plan, Plan 2014, and subsequent public hearings were held this past summer. Plan 2014 is essentially Plan Bv7 with override: when lake levels go beyond certain thresholds, or trigger levels, the board has the authority to override and "deviate from the regulation plan."  This seems to be an appropriate development for any adaptive management approach. This new proposal claims to address the concerns of riparian communities by incorporating environmental benefits, but staying close to the previously proposed plan.
To B(7) continued.
Mikhail Smilovic is a Ph. D. Candidate at McGill University.