Watersheds 2014 Proceedings Now Available
In January 2014, the national, three-day watershed governance forum Watersheds 2014: Towards Watershed Governance in British Columbia and Beyond was held on Cowichan Tribes territory in Duncan, British Columbia. The event focused on bringing forward innovative ideas and developing new skills for implementing watershed governance on the ground. Delegates from a diversity of backgrounds—including watershed groups, researchers, professional resource managers, and decision-makers at all levels of government, including First Nations—came together to re-envision the way we use, share, and respect our freshwater and watershed resources.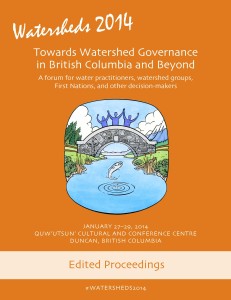 The Edited Proceedings from Watersheds 2014 are now available. This substantial document organizes and summarizes the presentations given, questions raised, and discussions held at the forum.
"This written record of Watersheds 2014 is not simply intended as a summary for those who attended the event," explained Oliver Brandes, who was on the Watersheds 2014 Leadership Team and is co-director of the University of Victoria's POLIS Project. "It's also been designed as a resource and reference document for anyone researching or working on implementing innovative new decision-making practices and processes within their watershed."
To effectively present all the information from the various panel sessions, workshops, and keynote presentations, the edited proceedings have been organized by broad thematic categories, including:
Watershed Governance and Attitudes Around Water,
Watershed Governance in Practice,
First Nations and Water Governance,
Water Law and B.C.'s Water Act, and
Resilience and Climate Change Adaptation.
The second half focuses on skills-building topics, including:
Watershed Planning and Source Protection,
Watershed Assessments, Report Cards, Indicators, and Water-Use Reporting,
Community Engagement, and
Social Financing.
Another important outcome of the event—beyond new understanding, connections, and networks—was the Watersheds 2014 Forum Consensus.
"This statement captures the core sentiments and primary conclusions from the event," Brandes said. "It is meant to signal to others the emerging importance and priority of fresh water for the health and prosperity of our communities, our economy, our sense of place, and, critically, our environment."
In addition to the edited proceedings, a number of the keynote talks and panel presentations from Watersheds 2014 have been posted on the POLIS Water Sustainability Project's YouTube channel. All other materials associated with the forum—including the agenda package, the readings and research package, and copies of the speakers' PowerPoint presentations—have been archived online.
Watersheds 2014 was co-organized by the POLIS Water Sustainability Project, based at the University of Victoria's Centre for Global Studies, the University of Victoria's Department of Geography, and Brock University's Environmental Sustainability Research Centre, along with the support of numerous partners and sponsors, including Cowichan Tribes and the Cowichan Watershed Board. Water Canada was a media partner.