Attending a SYP Leadership Retreat
This week's blog post is all about my exciting weekend with the Great Waters Challenge (GWC) Youth Advisory Board. I was honoured to be asked to join the GWC's Youth Advisory Board (YAB) to report about their weekend retreat, because I knew this would be a great opportunity to connect with other water-focused SYPs and share my experience on Bubble.
Dona Geagea, youth engagement designer and facilitator for the GWC, promised a day of outdoor activities, team building, discussions, and project building workshops, and I was not disappointed.
After a nervous 6:00 a.m. start, I arrived at Nirvana Retreats in Palgrave, Caledon, Ont. at 8:15 a.m. It was an idyllic setting, overlooking a beautiful pond and lush trees. I was immediately welcomed with smiling faces and felt connected with the other attendees. After enjoying a vegan breakfast and the day's first cup of coffee, we headed outside for an ice-breaker game.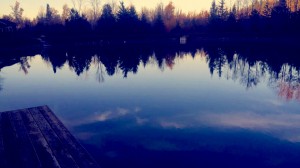 The YAB consists of 18 members from across Canada who evaluate the GWC participants' blog challenges and provide ongoing support throughout the challenge. The day's workshops were about engaging more youth, how to make the GWC experience better for the participants, and how to be great leaders on the Advisory Board and in the water sector. The Board inspired me with their words of advice, encouragement, and thoughts.
Key points from the YAB:
1. Say Yes When an Opportunity Arises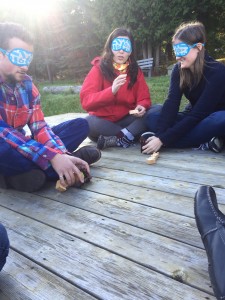 Though the best opportunities arise unplanned, don't stop seeking them. Experience is just as valuable as knowledge and education.
2. Stop Talking — Start Listening
Sometimes we get so caught up trying to network, we forget to listen to what others are saying. You can learn a lot from people, experienced or not.
3. Gain Experience
Make time to volunteer, seek out experiences, and try a variety of things. If you're in a science program, try connecting with the film society. Getting involved in communities that aren't just environmental-focused gives you a more well-rounded skill set.
4. The Power of Nature
Change your scenery. Go where conversations are had over meals. Take time to enjoy the power of nature, Allow yourself to be alone without distractions.
5. Grades at University Aren't Everything
You won't remember everything what you did in first-year statistics once you graduate. So take some classes you enjoy, make relationships, and seek out opportunity.
Let's Engage
I was so inspired by the YAB's words of advice and encouragement. After just one day, I found myself more passionate about water issues. Have you had a similar experience? Would you like to learn more about the YAB? Get in touch, and we can start networking together!
To learn more information about the GWC visit their website: https://waterlution.org/gwc16/
You can also check out my first blog post on the GWC: http://watercanada.net/2016/introduction-to-great-water-challenge-with-waterlution/
Exciting news: the GWC Level 1 program will run again in 2017, giving SYP's who didn't sign up this October the chance to join in January!
Thank you to the GWC Coordinators for inviting me to the retreat and the YAB sharing their skills with me.
I hope everyone enjoyed the Bubble blog post last week and the Bluefin documentary!