Great Water Challenge: Exploring Your Watershed
This month, I entered into the Waterlution Great Water Challenge (GWC)—an online, interactive, nation-wide program, for SYP's under the age of 30 that aims to get participants out into their local communities to learn about the local water supply problems.
For my second task as part of the GWC, I have decided to take on the role of The Explorer. As The Explorer, I must find two water-related landmarks of significance in my neighbourhood or community and research the history of human use and development in the area. I have selected  Sixteen Mile Creek, that runs through Oakville, covering 8.5 kilometres, and the Bruce Trail, because they are two of my favourite places.
Sixteen Mile Creek
This water-related landmark is right in the heart of my community.
I love Sixteen Mile Creek. This 92,000-acre area of the watershed includes headwaters, several tributaries, forested lands, ravines, farmlands, and urban landscapes. It is the largest out of all Conservation Halton's watersheds. Running east to north of Mississauga, it reaches the edge of Georgetown, Limehouse, Acton, and Campbellville.
Whenever I  need to clear my mind, or hit the reset button, there is something about being there that makes me feel good. Walking under the changing colours of forest canopy—in warm ambers and reds—the sound of ruffling leaves beneath my feet calm my senses.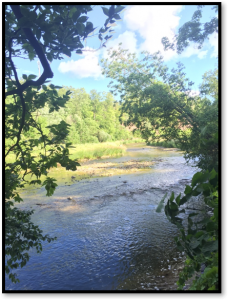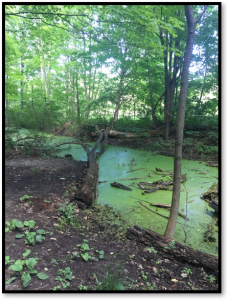 This area also supports a diversity of plants and animals. The area is a natural corridor for connecting with the Niagara Escarpment, Hilton Falls, Kelso conservation areas, Scotch Block Reservoir, Speyside Resource Management Area, and parts of Halton Regional Forest.

Photos above: credit Jessica Neal
Due to its size, the area has a huge impact on the lives of those living in the Halton Region. As stated on the Oakville Green States website, "with such a beautiful landscape comes big responsibility: we are responsible to nature."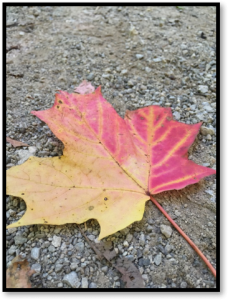 Photos above credit: Jessica Neal.
Development and urbanization have been substantial over the last century. Development continues to grow today because the areas is not protected under the province's designation for Ontario's Greenbelt. With significant population growth forecasted in the area, and encroachment on farmlands, there is potential for new pressures on the creek.
 The Bruce Trail
The Bruce Trail is a 895-kilometre hiking trail that follows the Niagara escarpment. It is also a UNESCO's World Biospheres Reserve! The trail extends from Niagara and the city of Hamilton, across the Dundas Valley, north through Caledon Hills, then to Blue Mountain, Beaver Valley, Owen Sound, and then finally Lake Huron's Georgian Bay to Tobermory.   
 Over 1,450 volunteers work together to maintain the trail. It was named after James Bruce who was Governor General of what was then known as the province of Canada from 1847 to 1854.
It includes many streams, rivers, and waterfalls which flow through the Niagara Escarpment. The Niagara Escarpment is an important source of groundwater and drinking water.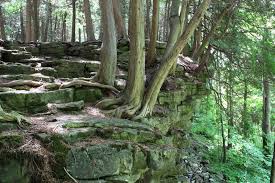 There is an estimated 7 million people living within 100 kilometres of the trail. Given the proximity of my community to the trail and the influx of tourism, human traffic is threat to the nature features of trail. The trail brings in about $60 million to local economies and is major economic benefit to nearby towns. Right now, the Bruce Trail Commission has reserved 10,000 acres of the beautiful land, but 50 per cent of the trail is still at risk of being developed.
Limited funding for land preservation and to manage this UNESCO site remains a challenge. Without well-maintained footpaths, human traffic can lead to destruction of wildlife.
One website said that hikers could expect to see over 28 waterfalls on a  five-day hike.
Doing this research has made me much more aware of the hydrologic points of interest in two areas that are beneficial to my community. People often value green spaces for their recreational potential, but should also be aware of the importance to water resources.
If you did not read Jess' introduction post about the Great Water Challenge, go here to learn more.