Interview with Bluefin Director, John Hopkins
If you're looking for some new film material, I would recommend, Bluefin, directed by John Hopkins. Bluefin takes an inside look at the Atlantic tuna fishing industry in North Lake, P.E.I.
North Lakes is the "tuna fishing capital of the world," but how long will that last?
The film presents two very different views on what is happening to tuna populations. On the one hand, the fishing community, who sail the Atlantic Ocean every day, are saying that the fish are so abundant, they will eat bait right out of hands. On the other side, scientists say that the population of Atlantic Bluefin tuna is on the brink of extinction. Who is right?
Hopkins' attempts to bridge the gap between groups to understand what a sustainable management plan for Bluefin tuna might look like. Both groups are clear that they don't want to see tuna populations go the way of the cod.
Through stunning underwater cinematography of tuna swimming alongside divers, Hopkins reveals the nature of this understated species of fish. This movie really captures the beauty of these animals that so many people across the world have never seen. Conservationist and writer, Carl Safina said, "I certainly think that one of the big problems with our view of fish is for the most part we think of them just as commodities. They have no value in most people's eyes until they're on a plate, cooked, looking nice, and we're about to eat them. We don't relate to them as wild animals. We don't see that fish are wildlife. The main problem is we can't see them."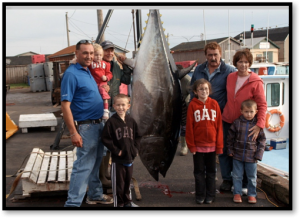 Populations have been declining in size since the 1960's due to overfishing. As well, their forage food supply has been depleted due to over-fishing, so much so that they are losing their fear of boats that bait them with herring. Many scientists believe that the tuna should be placed on list of Canada's Species at Risk. Yet, Federal Ministry of Fisheries has rejected this recommendation, which puts the population in a vulnerable position. Boris Worm, an ocean ecologist from Dalhousie University said, "There's study after study now that shows you just can't fish those species as hard as we thought we could." Bluefin (Trailer) from NFB/marketing on Vimeo. This movie is an inspiration to anyone with an interest in fishery or coastal issues.
The film with premier on October 30  in Charlottetown, Prince Edward Island (Charlottetown Film Festival);
November 5, 2016, 10:00 a.m. at the Al Whittle Theatre, in Wolfville, Nova Scotia; National Film Board online Screening Room: NFB.ca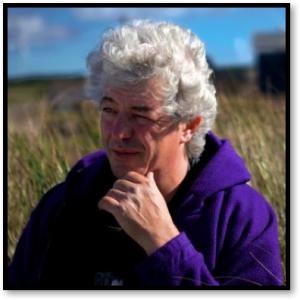 Photo: Director John Hopkins For updates on future festival viewings, follow the movie's twitter page @BluefinDoc. John Hopkins has shared a few video clips from the movie:  Clip 1; Clip 2; Clip 3.

Bluefin (Trailer) from NFB/marketing on Vimeo.