The Great Waters Challenge #3
Last week, I gave a presentation to a Grade 12 class about the Hamilton Harbour: Randle Reef Cleanup Project. For the third Great Waters Challenge (GWC), I had to organize an event, inform attendees about a local water issue, and do so in an engaging way. Challenge #3 was my favorite so far, because I visited the teacher whose class inspired me to make a difference in the world.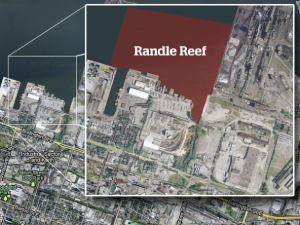 Hamilton Harbour was listed as an Area of Concern under the Canada-United States Great Lakes Water Quality Agreement in 1985, and Randle Reef has the largest amount of cancer-causing contaminants (polycyclic aromatic hydrocarbon or PAH) of any site on the Great Lakes. The Randle Reef cleanup is the last project that needs to be completed before the habour can be delisted.
How was the site contaminated?
Randle Reef is bordered by heavy industry, including portlands and steel processing, and for over 150 years, the area has been subjected to poor waste management. Ongoing contaminant sources include coal gasification, petroleum refining, steel production, and the draining of municipal sewage into the water. The result is 695,000 cubic meters of highly carcinogenic sediments—PAH and other heavy metals—enough to fill 3 hockey arenas. The Randle Reef Clean-up has total estimated cost of $138.9 million.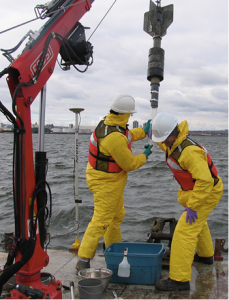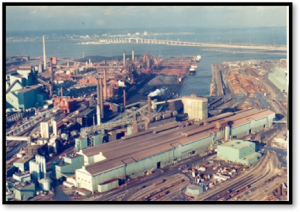 How is the area being cleaned up?
An engineered containment facility (ECF) will contain the heavy metal saturated sediment and prevent it from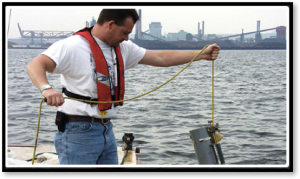 entering the ecosystem further. As the ECF will be a permanent structure in the harbour, the top will be used as a port facility. The clean-up will take seven years in total, two years for the construction of the structure, two years to pump the toxins into the containment box, and three years to compress the sediment and squeeze out any water. The wastewater created will be collected by pump and sent to a water treatment facility.
Why talk with high school students?
I chose to present the Randle Reef project to high school students because I wanted to connect with young people who are thinking about their futures. By informing students about the importance of fresh water management and exciting work in the field, I hoped to share my interest and concern for water issues. The thoughtful discussion of the students at the end of my presentation makes me think there will be new SYPs in the water management field very soon!
Even if you weren't able to join the GWC, I challenge you to get out and speak to people in your community about water issues. E-mail your local high school, create a shoreline water cleanup, or start a water-awareness event at your university.
Let me know how it goes in the comments below!