Cartophilia
O all the little rivers that run to Hudson's Bay,
They call me and call me to follow them away.
Missinaibi, Abitibi, Little Current—where they run
Dancing and sparkling I see them in the sun.
                                                                               —excerpt of the poem Rivers of Canada by Bliss William Carman.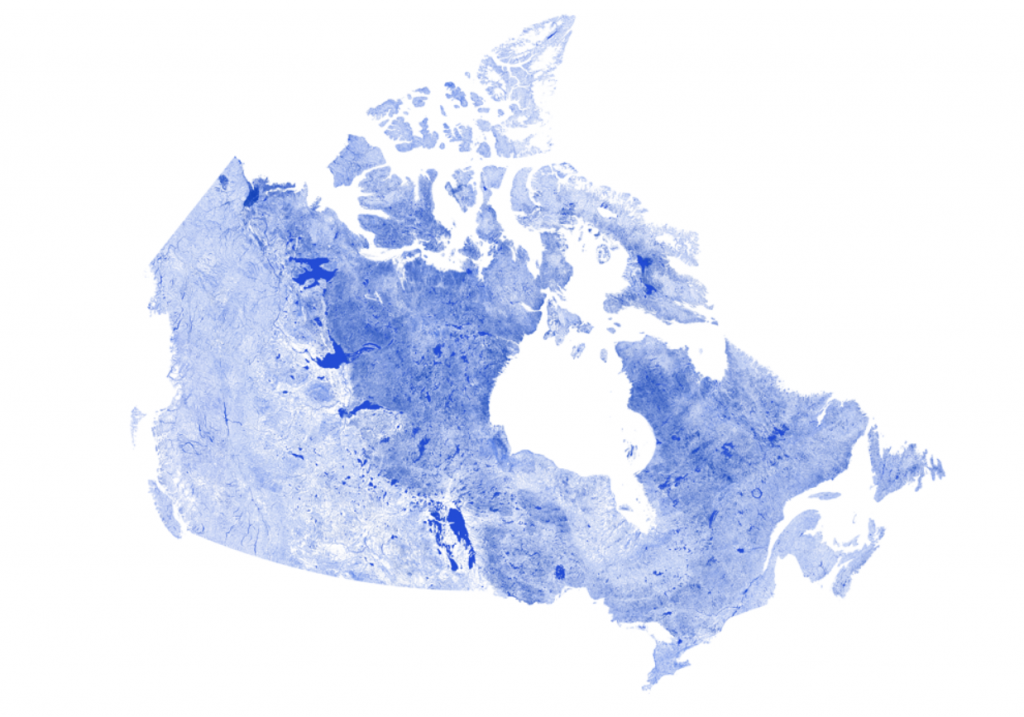 Some people see beauty in the patterns of the natural world. Robbi Bishop-Taylor is one of them. The PhD candidate at the Geospatial Analysis for Environmental Change Lab at the University of New South Wales Australia has been receiving a lot of praise lately for his visually-stunning maps, using government surface water datasets.
After his first map project, depicting the 1.3 million rivers and streams of Australia, went viral through social media, he decided to expand the project and eventually created this map of Canada. "I've always been fascinated by how the patterns and structure of our natural landscapes influence and shape the world we live in," Bishop-Taylor said. "Some of the natural patterns in these datasets are incredibly beautiful, with the twists and turns of watercourses in particular reflecting the unique topography, geology, and climate of a region or continent."
Bishop-Taylor uses QGIS, a powerful open source Geographic Information System (GIS) program designed to analyze and map large geographic datasets. The maps are based on Natural Resources Canada's CanVec 1:250,000 scale lakes and rivers datasets, and contain in total around 2.6 million rivers and streams, and almost 2 million lakes and waterbodies. The streams and lakes accurate down to around 150 metres.
As part of his doctoral research, Bishop-Taylor is using complex geographic datasets and satellite data to model how drought and flooding affect ecosystems across arid Australia. He said, "Although this geographic data is often freely available online, it unfortunately rarely gets used outside of government departments or scientific papers. By turning these datasets into visual map art, my hope is that more people can experience and enjoy the beauty of geography and the natural world for themselves."
He was pleased to learn that even higher resolution datasets of water bodies exist for Canada, with this data improving every day as computing power grows and terabytes of new satellite imagery becomes available. "With its extremely high density of lakes and freshwater streams, Canada couldn't be more of a contrast to the harsh, dry landscapes of inland Australia. To do justice to this incredible natural geography, I settled on a minimalist design that mapped Canada by nothing but the water bodies themselves: no distractions created by internal border divisions or influences of the human world."
All images: Robbi Bishop-Taylor
Prints of Robbi Bishop-Taylor's maps are available for purchase through Etsy at earthartaustralia.etsy.com.