Freshwater Essays
With support from the RBC Blue Water Project, the International Institute for Sustainable Development – Experimental Lakes Area (IISD-ELA) launched a national essay competition for high school students from grades 8-11 focusing on the topic of freshwater in Canada.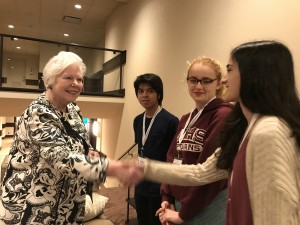 In celebration of Canada's 150th anniversary students were asked about the best ways we can continue to sustainability manage our fresh water for the next 150 years. The prize for the top three essays in the competition was a trip to Toronto and participation in the Canadian Water Summit.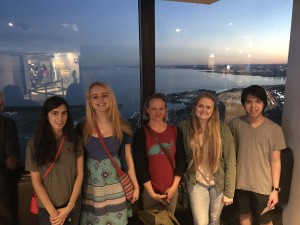 The students took the top honours:  Emily Coates from Moncton New Brunswick, Carl Dizon from Winnipeg, MB and Alexandra Ionita from Winnipeg, MB. Read their essays below.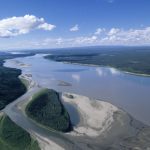 How Can We Improve Canada's Fresh Water?
By Alexandra Ionita,  St. John's Ravenscourt School
According to NASA (2017), out of all the water in world (including oceans, rivers, and lakes) only three percent of it is freshwater. However, freshwater is vital for all living things. It provides water that we can drink, powers agriculture, and is what makes civilization on this Earth possible. Canada holds about one fifth of the world's freshwater and it's home to thousands of rivers, lakes, and wetlands (NASA). However, many of these lakes are currently in danger because of harmful human activity. In fact, Lake Winnipeg has recently been named "world's most threatened lake" by the Global Nature Fund (2013) due to the toxic algae that is poisoning the lake. Fortunately, organizations such as The Lake Winnipeg Foundation are dedicated to the health and wellbeing of the lake, and are coming up with many solutions to the issues facing Lake Winnipeg. Lake Winnipeg's watershed is the second largest watershed in Canada. According to the Water Stewardship Division (2017) from the Government of Manitoba, the drainage basin extends nearly 1,000,000 square kilometres across the country and stretches over four provinces and four U.S. states. Several major rivers (including the Red, Winnipeg, and Saskatchewan rivers) flow into and feed this massive lake. Only one river flows out of Lake Winnipeg (the Nelson River) and its outflow is used for hydroelectric power generation. Lake Winnipeg has been very important to millions of people, especially for the Icelandic people in 1875. According to Neil Babaluk (2010) in his article "Historic Hecla", Lake Winnipeg's shores became home to a group of Icelanders who were forced out of their homes because of a volcanic eruption. Lake Winnipeg provided a place for these people to live, who also used the lake's resources to create a thriving fishing community. Nowadays, around seven million people depend on the important resources that Lake Winnipeg provides, which includes drinking water, hydroelectricity, and food. This means that if it were to become too damaged for humans to use, millions of people would be left without an adequate supply of these basic human needs.
Read more of Alexandra Ionita's essay here.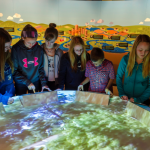 Education and Innovation: Key to Sustaining Lake Winnipeg
By Carl Dizon, Sisler High School, Winnipeg School Division
In a world where the effects of urbanization have severely affected the environment, Canada shines as a perfect mix between bustling cities and natural landscapes. Natural landscapes, more specifically, are what make Canada one of the most beautiful places in the world. From towering mountains like the Canadian Rockies to picturesque views like you see at Niagara Falls, Canada is chockful of jaw-dropping sights. One sight, however, is in danger because of human influence, and that is Lake Winnipeg. Lake Winnipeg, after its emergence from the prehistoric Lake Agassiz, has played a significant role in the lives of Canadians.
By the start of the 20th century, railways located along Lake Winnipeg connected Winnipeg to Selkirk, thus making travel easier for the denizens of both Winnipeg and Selkirk. Furthermore, railways along Lake Winnipeg's south basin made it easier for Winnipeggers to escape city life and retreat to the natural beauty of the lake. Winnipeg Beach became one of the first destinations that Canadians decided to visit after railways were built near Lake Winnipeg in 1903 by Canadian Pacific. Winnipeg Beach and other destinations located along Lake Winnipeg continue to instill unforgettable experiences in the minds of Canadians even to this day. Besides being a hub for activities, Lake Winnipeg is also home to more than 23,000 Canadians, including 11 First Nations communities. These communities, particularly First Nations communities, have fought for the preservation of the lake, which cultivated their culture and their lives. Lake Winnipeg also serves as a source of power since Manitoba Hydro was given a license to regulate the lake in 1970. Additionally, Lake Winnipeg contributes to the hydroelectricity output of Manitoba, which accounts for almost 98 per cent of overall energy production in Manitoba in tandem with wind power.
Read more of Carl Dizon's essay here.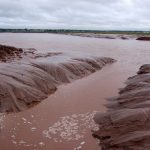 The Petitcodiac River
By Em Coates
The Petitcodiac river, often nicknamed by the locals as the chocolate river due to its heavy sedimentation, is located in South Eastern, New Brunswick. It is a popular belief that the name derives from the French term "petit coude" meaning "little elbow." The real etymology of the word comes from an Indigenous word. According to Maliseet Elder and linguist Dr. Peter Paul of the Woodstock Reserve, the name refers to a wall of water rushing in and means "sound of thunder". The name could also derive from the Mi'kmaq word Epetkutogoyek which means "the river that bends like a bow". This is a reference to the right-angle bend near Moncton. Acadians transformed the spelling to Petcoudiac or Petitcoudiac which was modified to Petitcodiac by British settlers. Ten named tributaries join the river in its course toward its mouth in Shepody Bay. Its tributaries to the left are North River, Mill Creek, Jonathan Creek, Halls Creek, and Fox Creek. Its tributaries on the right are Anagance River, Little River, Pollett River, Turtle Creek, and Weldon Creek. The Memramcook River joins the Petitcodiac River near its mouth. The Petitcodiac then drains into Shepody Bay. Once the bay passes Hopewell Rocks, it merges with the Cumberland Basin, which flows South-West towards Chignecto Bay. Chignecto Bay drains into the Bay of Fundy, which flows into the Gulf of Maine, which continues South-East into the Atlantic Ocean via the Northeast Channel. The river has a meander length of 79 kilometers. It runs through Westmorland, Albert, and Kings counties. An array of banks on both sides precede the 90-degree turn to the south, a characteristic that gave Moncton its original name, Le Coude (The Elbow). Its watershed includes valleys, ridges, rolling hills and is home to a varied population of terrestrial and aquatic species. The area of its watershed is 2,071 square kilometers. The average yearly precipitation in the watershed is 1,100 millimetres.
Read more of Em Coates's essay here.