Summer Reads for Water Nerds
You might have a pile of sci-fi or chick-lit lining your bookshelves in line for your summer vacay. Mindless, light, easy. But we recommend that you don't let your brain go completely mushy; instead, that you use the time off to recharge with the latest selection of winning water management fiction and non-fiction. Here's a few that we recommend: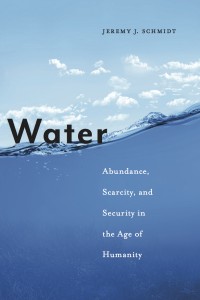 Water: Abundance, Scarcity, and Security in the Age of Humanity
By Jeremy Schmidt
Released: April, 2017.
paperback | $35 (U.S.)
An intellectual history of America's water management philosophy.
Humans take more than their geological share of water, but they do not benefit from it equally. This imbalance has created an era of intense water scarcity that affects the security of individuals, states, and the global economy. For many, this brazen water grab and the social inequalities it produces reflect the lack of a coherent philosophy connecting people to the planet. Challenging this view, Jeremy Schmidt shows how water was made a "resource" that linked geology, politics, and culture to American institutions. Understanding the global spread and evolution of this philosophy is now key to addressing inequalities that exist on a geological scale.
Water: Abundance, Scarcity, and Security in the Age of Humanity, details the remarkable intellectual history of America's water management philosophy. It shows how this philosophy shaped early twentieth-century conservation in the United States, influenced American international development programs, and ultimately shaped programs of global governance that today connect water resources to the Earth system. Schmidt demonstrates how the ways we think about water reflect specific public and societal values, and illuminates the process by which the American approach to water management came to dominate the global conversation about water. Debates over how human impacts on the planet are connected to a new geological epoch—"the Anthropocene"—tend to focus on either the social causes of environmental crises or scientific assessments of the Earth system. Schmidt shows how, when it comes to water, the two are one and the same. The very way we think about managing water resources validates putting ever more water to use for some human purposes at the expense of others.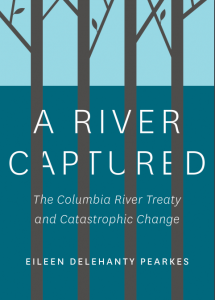 A River Captured: The Columbia River Treaty and Catastrophic Change
by Eileen Delehanty Pearkes
Release Date: October 2016
paperback | $20
Long lauded as a model of international cooperation, the Columbia River Treaty governs the storage and management of the waters of the upper Columbia River basin, a region rich in water resources, with a natural geography well suited to hydroelectric megaprojects. The Treaty also caused the displacement of over 2,000 residents of over a dozen communities, flooded and destroyed archaeological sites and up-ended once-healthy fisheries.
The book begins with a review of key historical events that preceded the Treaty, including the Depression-era construction of Grand Coulee Dam in central Washington, a project that resulted in the extirpation of prolific runs of chinook, coho and sockeye into B.C. Prompted by concerns over the 1948 flood, American and Canadian political leaders began to focus their policy energy on governing the flow of the snow-charged Columbia to suit agricultural and industrial interests.
Referring to national and provincial politics, First Nations history, and ecology, the narrative weaves from the present day to the past and back again in an engaging and unflinching examination of how and why Canada decided to sell water storage rights to American interests. The resulting Treaty flooded three major river valleys with four dams, all constructed in a single decade.
At the heart of this survey of the Treaty and its impacts is the lack of consultation with local people. Those outside the region in urban areas or government benefited most. Those living in the region suffered the most losses. Specific stories of affected individuals are laced with accounts of betrayal, broken promises and unfair treatment, all of which serve as a reminder of the significant impact that policy, international agreements and corporate resource extraction can have on the individual's ability to live a grounded life, in a particular place.
With one of the Treaty's provisions set to change in 2024, and with termination of the treaty requiring a 10-year notice period, the question of whether or not to renew, renegotiate or terminate this water agreement is now being actively discussed by governments and policy makers. A River Captured surveys important history that can influence debate on who owns water, how water should be valued and whether or not rivers can be managed for non-human values such as fisheries, as well as the familiar call for more affordable electricity.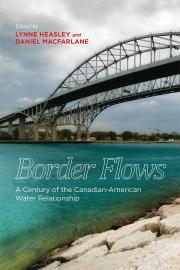 Border Flows: A Century of the Canadian-American Water Relationship
Lynne Heasley (editor)
Daniel Macfarlane (editor)
University of Calgary Press
Release date: November 2016.
$34.95 CAD—also, available for free in PDF online.
You couldn't pick a better time to brush up on your Canada-U.S. water governance knowledge! Border Flows traces the century-long effort by Canada and the United States to manage and care for their ecologically and economically shared rivers and lakes that span the 8,800-kilometre border. Ranging across the continent, from the Great Lakes to the Northwest Passage to the Salish Sea, the histories in Border Flows offer critical insights into the historical struggle to care for these vital waters. From multiple perspectives, the book reveals alternative paradigms in water history, law, and policy at scales from the local to the transnational. Students, concerned citizens, and policymakers alike will benefit from the lessons to be found along this critical international border.
With contributions by Andrea Charron, Alice Cohen, Dave Dempsey, Jerry Dennis, Colin A.M. Duncan, Matthew Evenden, James W. Feldman, Noah D. Hall, Lynne Heasley, Nancy Langston, Frédéric Lasserre, Daniel Macfarlane, Andrew Marcille, Jeremy Mouat, Emma S. Norman, Peter Starr, Joseph E. Taylor III, and Graeme Wynn, this collection of thoughtful essays by an impressive group of expert contributors examines separation and inter-action along the aquatic borders, boundaries, and borderlands shared by Canada and the United States. It also offers insights into how distinct jurisdictions at various political levels have and will con­tinue to face common challenges makes this volume a valuable record of aquatic envi­ronmental history and a source of insights into the future of water, aptly described by the editors as "a fundamental environmental and moral concern of the twenty-first century."
New York 2140
Release date: Mar 14 2017
by Kim Stanley Robinson
paperback | $32.76 + free shipping through Amazon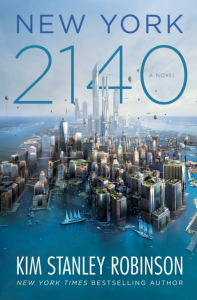 New York Times bestselling author Kim Stanley Robinson's latest novel is set in New York City, in the next century, completely under water. The world missed the the magic target of keeping global temperatures below 2 degrees Celsius. As the sea levels rose, every street became a canal. Every skyscraper an island. For the residents of one apartment building in Madison Square, however, New York in the year 2140 is far from a drowned city.
The book explores a full eight separate narratives: the market trader, who finds opportunities where others find trouble; the detective, whose work will never disappear, along with the lawyers, of course; an Internet star; a building's manager; and two boys who don't live there, but have no other home—and who are more important to its future than anyone might imagine.
Lastly there are the coders, temporary residents on the roof, whose disappearance triggers a sequence of events that threatens the existence of all– and even the long-hidden foundations on which the city rests.
New York 2140 is a compelling summer read that responds to critics who have suggested that the literary community should be doing more to care about climate change.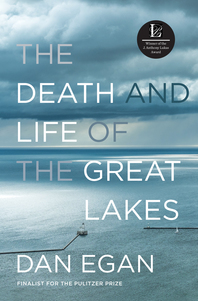 The Death and Life of the Great Lakes
By Dan Egan
WW Norton & Company Inc Press
Hardcover $27.95
Release date: March 2017
The Great Lakes—Erie, Huron, Michigan, Ontario and Superior—are under threat as never before, and their problems are spreading across the continent. The Death and Life of the Great Lakes is prize-winning reporter Dan Egan's compulsively readable portrait of an ecological catastrophe happening right before our eyes, blending the epic story of the lakes with an examination of the perils they face and the ways we can restore and preserve them for generations to come.
For thousands of years the pristine Great Lakes were separated from the Atlantic Ocean by the roaring Niagara Falls and from the Mississippi River basin by a "sub-continental divide." Beginning in the late 1800s, these barriers were circumvented to attract oceangoing freighters from the Atlantic and to allow Chicago's sewage to float out to the Mississippi. These were engineering marvels in their time—and the changes in Chicago arrested a deadly cycle of waterborne illnesses—but they have had horrendous unforeseen consequences. Egan provides a chilling account of how sea lamprey, zebra and quagga mussels and other invaders have made their way into the lakes, decimating native species and largely destroying the age-old ecosystem. And because the lakes are no longer isolated, the invaders now threaten water intake pipes, hydroelectric dams and other infrastructure across the country.
Egan also explores why outbreaks of toxic algae stemming from the overapplication of farm fertilizer have left massive biological "dead zones" that threaten the supply of fresh water. He examines fluctuations in the levels of the lakes caused by manmade climate change and overzealous dredging of shipping channels. And he reports on the chronic threats to siphon off Great Lakes water to slake drier regions of America or to be sold abroad.
In an age when dire problems like the Flint water crisis or the California drought bring ever more attention to the indispensability of safe, clean, easily available water, The Death and the Life of the Great Lakes is a powerful paean to what is arguably our most precious resource, an urgent examination of what threatens it and a convincing call to arms about the relatively simple things we need to do to protect it.
downstream: reimagining water
edited by Dorothy Christian & Rita Wong
Paperback $27.99
Wilfred Laurier University Press
Release date: February 2017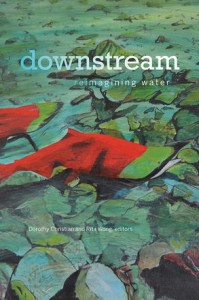 downstream: reimagining water brings together artists, writers, scientists, scholars, environmentalists, and activists who understand that our shared human need for clean water is crucial to building peace and good relationships with one another and the planet. This book explores the key roles that culture, arts, and the humanities play in supporting healthy water-based ecology and provides local, global, and Indigenous perspectives on water that help to guide our societies in a time of global warming. The contributions range from practical to visionary, and each of the four sections closes with a poem to encourage personal freedom along with collective care.
This book contributes to the formation of an intergenerational, culturally inclusive, participatory water ethic. Such an ethic arises from intellectual courage, spiritual responsibilities, practical knowledge, and deep appreciation for human dependence on water for a meaningful quality of life. Downstream illuminates how water teaches us interdependence with other humans and living creatures, both near and far.
Release date: April 12, 2016
Kindle: $9.99
Available through Amazon
Photographer, author, and limnologist Nina Munteanu explores the many dimension of H2O—the practical, the physical, and the magical. Water Is… represents the culmination of over twenty-five years of her study of water. During her consulting career for industry and government, Munteanu discovered a great disparity between humanity's use, appreciation, and understanding of water. This set in motion a quest to further explore our most incredible yet largely misunderstood and undervalued substance. Part history, part science and part philosophy and spirituality, Water Is…combines personal journey with scientific discovery that explores water's many "identities" and ultimately our own.