Water Canada is an influencer, a networker, and a newsmaker. Our editors and researchers know the industry. More importantly, we know the people implementing plans and projects on the frontlines.
Thousands of readers turn to Water Canada for exclusive, insightful content that speaks to Canada's water expertise, connects the country's decision-makers, and promotes better water management and stewardship of our most important natural resource.
Our history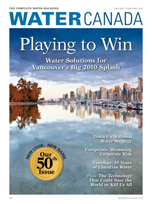 Water Canada began its life as Water Treatment Dealer in 2001, later changing its name to  Canadian Water Treatment. Our fiftieth issue (January/February 2010) saw the debut of Water Canada: The Complete Water Magazine. View our archives.
The publication continues to be a trusted and reliable source for more than 35,000 professionals who follow Water Canada in print and online. Just ask our readers.
Water Canada in the news
Five-part series on buried Taddle Creek published online.
University of Toronto's School of the Environment newsletter. September 24, 2013.
Tracking Corporate Water Impacts: Water is an essential part of life but we often take water for granted, with little idea about where our water goes or how we can use it more carefully.  Change is in the wind though, as more and more people and organizations are looking at water differently.  Where many once thought that our supply of water was endless, a growing number of companies, individuals, governments, and others are finding ways to use water wisely, starting with tracking the water we use.
By 3BL Media. May 22, 2013.
Bring on the Dragons.
By Kerry Freek, Ministry of Economic Development and Innovation blog. January 9, 2013.
A Clear Need for Water: New technologies are making it easier and less expensive to clean, manage, protect and waste less of life-giving liquid we take for granted.
By Kerry Freek, Corporate Knights. Fall 2012.
Wastewater Win-Win: An unlikely resource could cut costs for industry and have municipalities seeing dollar signs.
By Kerry Freek, blue-economy.ca. October 25, 2012
The Perfect Storm: Furious storms and more frequent flooding are causing water damage insurance claims to skyrocket. How can cash-strapped municipalities compensate for insufficient infrastructure? The answer may be easier (and cheaper) than you think.
By Kerry Freek, blue-economy.ca. September 14, 2012.
To Market We Go: Water quality trading treats pollution as a commodity, could yield significant environmental–and economic–results.
By Kerry Freek, blue-economy.ca. August 28, 2012.
Water needs a radical rethink: Nicholas Parker
By Kerry Freek, GLOBE-Net. July 6, 2012.
The Other 99 Per Cent
By Kerry Freek, Engineering World (originally published in Water Canada). June/July 2012.
Periodical Profile: Water Canada (pdf)
By Joel Trenamen, Manitoba Eco Network Eco-Journal. Summer 2012.
Cuts to water programs bad for business and the public: critics
By James Munson, iPolitics. May 3, 2012.
Electricity Usage for Utilities Comes Down to One Word: Efficiency
By Kerry Freek, Canadian Municipal News & Review. Spring 2012.
First Nations Water Rights Conference in Canada Signals Turning Point – And We Should All Pay Attention
By Meirav Even-Har, Justmeans.com. April 10, 2012.
The Double Standard of Environmental Enforcement
By Bruce Pardy, percolatorblog.org. November 18, 2011.
Company focuses on water
By Joseph Chin, mississauga.com. May 5, 2011.
Water reuse project featured in national magazine
By Jamie Woodford, Dawson Creek Daily News. January 12, 2011.
Site 41 – aka North Simcoe Landfill – Information Session Heats Up
roadlogic.ca. August 25, 2009.
Memberships
Water Canada is a proud member of the following organizations:

Canadian Water and Wastewater Association
Canadian Public Works Association
Canadian Water Quality Association
Canadian Water Resources Association
Magazines Canada
Ontario Environment Industry Association
Ontario Groundwater Association
Water Environment Association of Ontario
Water Environment Federation